OVER-KNEE TREND
SHOE TREND: OVER-KNEE BOOTS
March 3, 2018
Nobody ever misses them this season: overknee boots. The boots, which reach over the knees, and so also came to their names, are absolute trend parts.
It all started with the British series "With umbrella, charm and melon" from the 1960s. The main character Emma Peel contributed to her business outfit Overknees, in whose shaft was a revolver. The film "Pretty Woman" from 1990 also increased the popularity of the trend shoe. Julia Roberts plays in the classic movie a prostitute, who was also noticed by her overknee boots.
Through movie characters like Catwoman or stars like Beyoncé the boots became more and more popular and also suitable for everyday use.
Knee variants
Usually overknee boots consist of smooth or suede. Since the shoe is often noticed by its height, it is usually in muted colors such as black, gray or khaki.
There are often only small details that distinguish one shoe from the other:
Flat or with a Heel?
<![if !vml]>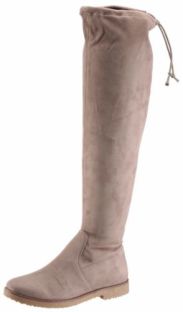 <![endif]>
Boots with monster heels or rather flats? That's certainly a matter of taste. High heels make the shoe even more noticeable. Flat heels make the shoe less domineering and fit e.g. also in the office everyday life.
With lacing
Cords on the back are very popular. The lacing can help tie the shoe tighter or just a fashionable detail. No matter what: the lacing makes the shoe something very special.
With pattern
For birds of paradise and those who want to attract attention: overknees with patterns are a guaranteed eye-catcher. It should not be worn too conspicuous other garments. The more noticeable the boots, the simpler the rest.
Looks
<![if !vml]>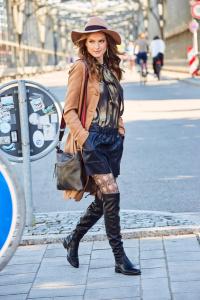 <![endif]>
But why are the shoe trends combined?
Wide-cut dresses and leggings are a popular combination. The boots look casual in this compilation. Oversize sweaters can also be worn.
Short pants in combination with tights and a blouse look very stylish. To go partying, the look is ideal. If boots without a heel are chosen, painful feet are also spared.
Skinny jeans and pullovers or business-style blouses make the trend shoes suitable for the office. The shoes should rather have a subtle color.